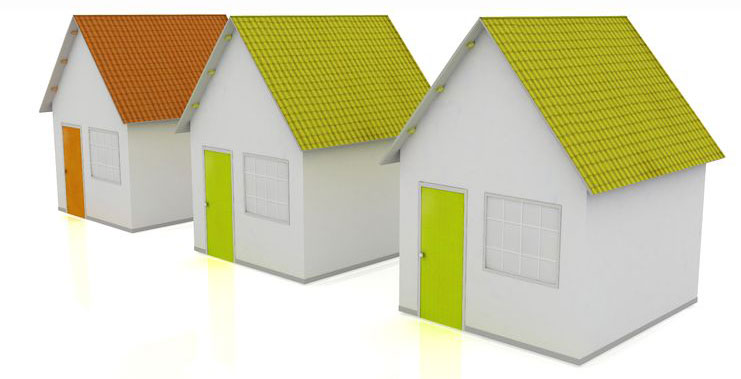 Information on Buy to Let Mortgage Providers for HMOs…
In today's modern world, many young professionals and college students find a great living situation in a House in Multiple Occupation. This refers to residential properties where multiple occupants share common areas, such as the kitchen or bathroom.
When it comes to landlords managing and mortgaging these types of properties, there can be some confusion – mortgaging an HMO is not as straightforward as mortgaging a single occupancy home. We have experience mortgaging these types of properties and can help individuals find HMO lenders who will work to fit their individual needs.
What is an HMO?
An HMO or House in Multiple Occupation is defined as a house or flat that is let to two different households of three or more unrelated tenants. These tenants often share common spaces such as a kitchen, bathroom, or living room area. HMOs are generally comprised of single family homes that have been converted into separate living quarters for multiple tenants.
These properties are usually let and maintained by a landlord who is responsible for maintaining the property, providing waste disposal services, and supply clear and safe escape routes in case of an emergency within the property.
Licensed and Unlicensed HMOs
Houses in Multiple Occupation generally fall into one of two categories from the perspective of an HMO broker – properties that require a License and properties that do not. Whether or not a license is required is generally determined by the number of occupants.
Kick Start Your HMO Mortgage Search Today!
Licensed HMOs are properties that are let to five or more tenants that form two or greater households over a span of three or more stories. These HMOs generally share a bathroom and kitchen area. Licensing for this type of property situation is usually granted by the local council and will require different mortgaging strategies than other properties.
A Household in Multiple Occupation that is let to more than three but less than five occupants and forms two or more households generally does not require an HMO license. It is important to note, however, that the need for a license for a Household in Multiple Occupation is solely determined by the local council – this means that, although the listed definitions are accurate, the local council has the authority to change this definition in their area.
There have been reports in certain geographical areas that councils have required HMOs with fewer than three occupants spanning over only two floors to obtain a license.
Obtaining and HMO Mortgage
We are experts in arranging mortgages for both licensed and unlicensed HMO properties and have established connections with HMO mortgage providers to help clients secure the best possible deal on their mortgage. These lender partners specialise in providing mortgage for both types of Houses in Multiple Occupation and can help to mortgage anywhere from three rooms to an unlimited number of rooms within the HMO.
Our Company works with an exclusive number of HMO finance professionals, some of which are on restricted panels in which only select brokers have access.
Our Company and group of specialised lenders can help anyone from the novice Houses in Multiple Occupation landlord to the most experienced landlord with multiple HMO properties. Many individuals see benefits in operating an HMO, including higher income and rental yields.
But, there is also added responsibility including meeting the proper property safety requirements. These requirements include fire safety, home amenity maintenance, and proper management. We have relationships with both Buy to Let and commercial HMO mortgage lenders who understand these standards.
Applying for a Mortgage for a Unlicensed HMO Property
When it comes to securing a mortgage for Houses in Multiple Occupation that do not require an HMO license, there are some specific areas at which mortgage lenders will look. First, they will determine if the property is truly an unlicensed HMO using the criteria outlined previously such as number of occupants and shared spaces.
Then, lenders will look at other criteria, such as upkeep of the property, internal locks on occupant's private rooms, and if the safety requirements have been met. Each lenders criteria will vary from one to the next, so it is important to shop around for the best HMO terms and deals.
Applying for a Mortgage for a Licensed HMO Property
Mortgages for licensed HMOs are generally more limited in the way of financing options and often take longer to secure than unlicensed mortgages. This is because licensed Houses in Multiple Occupation are generally larger and sometimes skirt the line of a commercial property which more information is needed in order to apply for the mortgage.
Again, how HMO mortgage brokers handle licensed HMOs will vary from one organisation to the next – usually the number of rooms or occupants in the space will determine who is interested in financing the property and who is not.
What Kind of Deal Can I Expect?
Our Company is a whole of market broker – that means that we can source the most competitive and cost effective deals for our clients. Generally, individuals seeking an HMO mortgage can expect to be able to secure between £75,000 and £2,000,000 in funding or up to 75 percent of the loan to value of new purchases.
Additionally, we may be able to secure funding for up to 60 percent of the value of a remortgage as well. Mortgages can be arranged for up to 20 buy to let rooms including multiple kitchens and each room or flat area is taken into consideration when working out a maximum loan value.
Houses in Multiple Occupation are becoming more and more popular – young professionals living in a city setting and college students often prefer these types of living situations for their location, social opportunities, and pricing. Landlords are also finding these types of letting opportunities to be profitable, even though they come with more requirements for maintaining them.
Lastly, we are experienced in helping individuals mortgage these types of properties and have made the necessary connections with specialised lenders to secure clients the best possible deals to meet their HMO mortgage needs.